Quartz or Battery Powered Watches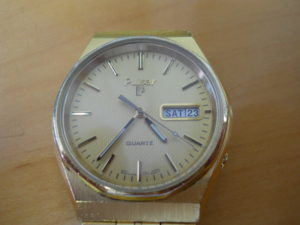 What is including in a complete servicing?

 
The proper inspection of your battery powered watches requires a complete disassembly and inspection of every part of the timepiece. Necessary repairs, required parts and their availability, as well as the cost of fabrication must be evaluated. If you are looking for a list of factory parts we might be able to service head please head here.
Battery Powered Watches
Includes brands like:
Before any servicing we do Repair Estimates: 
In most cases, battery powered watches require an estimate to be performed prior to any work being approved or performed. An estimate fee must be paid before an estimate is begun. This is due to the extensive labor and time required as our watchmaker examines each piece of the watch and movement to give an accurate analysis of the condition of the watch and parts availability.  In these cases, when you approve the repair/restoration then we will credit the estimate fee to the repair cost. Once our watchmaker has completed the estimate then we will e-mail, fax, phone or mail a copy to you (depending on your preference) for your approval. Estimates are usually completed within one to two business days, though older models may take longer so that we can investigate parts availability.
Estimate Fees are non-refundable.
For our customers that want to know a ballpark cost before the estimate we perform "Guesstimates". With this we will examine the watch without disassembling the movement, and look at the watch and give you a cost range that the repair should fall into. If this cost range fits into your expectations then we will perform the full estimate and let you know the exact cost. Estimates may be more or less once completed. Guesstimates are no-charge.